​​​
Welcome To The Austin Cell Phone
Repairing your cell phones & tablets since 2012
Have Questions?
Click To Chat
Our Most Popular Services
Check Out Our Reviews
You have discovered one of the best places in Austin where you can get some real help with your smartphone or tablet. Our mission is to offer solutions to your problem in the quickest and least expensive way without sacrificing quality or service.
Learn More About What We Do
We Are Versatile At The Austin Cell Phone
There is very little we cannot help with when it comes to smartphones & tablets. The most common thing we provide to out awesome customers is our highly rated repair services for smartphones, tablets and laptop screens.
Like most cell phone repair shops we specialize in iPhone repair & iPad repair. However, also specialize in Samsung Galaxy repair as well as many other smartphones including LG, HTC, Motorola & much more.
​You Can Find Us Here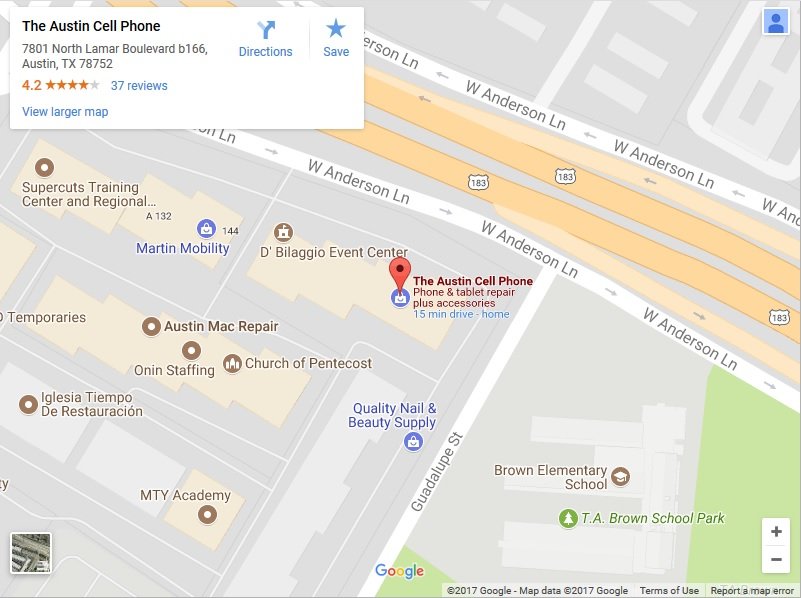 7801 North Lamar Blvd
​Suite B166
​Austin TX 78752
Click Here To
Navigate To Us
​Hours We Are Open
Monday – Friday
10:30 – 7
Saturday
12 – 5
Sunday
Closed
Have Questions?
Click To Chat
​​Have Questions?
Click To Call
Aside from our repair services, you can also buy a used or refurbished smartphone. We have cell phones available for all the major carriers that are ready to activate today. You can also find basic flip phones for sale too. Your business with us includes our help to get it activated so that you walk out with a working phone. Imagine the time saved by not having to take a trip to another store. This service is completely optional & will not cost you anything extra.
Need to sell your iPhone, tablet, iPad, laptop or any other electronics? You can do that here too. For the really old stuff there is no buy back value. However, we will make sure it gets recycled responsibly.
Lastly, you can get your iPhone unlocked and other smartphones too. These unlocks will not removes an iCloud lock on an iPhone. Only Apple, or the original owner can do that. However, for some Android smartphones we can bypass the Google account.
An Example Of Our Repair Work
Some Of Our Yelp Reviews
Read Sharon T.'s review of The Austin Cell Phone on Yelp[tcb-script async="async" src="https://www.yelp.com/embed/widgets.js" type="text/javascript"][/tcb-script]Read PAMELA N.'s review of The Austin Cell Phone on Yelp[tcb-script async="async" src="https://www.yelp.com/embed/widgets.js" type="text/javascript"][/tcb-script]Read Danielle W.'s review of The Austin Cell Phone on Yelp[tcb-script async="async" src="https://www.yelp.com/embed/widgets.js" type="text/javascript"][/tcb-script]
We Are Here To Help You
As mentioned above, we will always suggest the best solution that serves your need. We will never mislead, over charge or suggest a more expensive option just to make a few extra bucks. We believe in providing superior service along with our experienced skill. Once you experience The Austin Cell Phone difference, you will be back to business with us.
Give us a call or stop on by. We love helping our customers, answer any questions you have and make new friends. Sometimes things can get a little confusing and we are here to educate so you can make an informed decision.
[thrive_leads id='1795′]
Posts From Our Blog
iPhone Wont Charge? Try This Before Buying A New iPhoneYour iPhone is important, VERY important. Imagine not having it at all or worse, it wont turn on. So what[…]Read More iPhone 6 Screen Repair Challenge Accepted @ The Austin Cell PhoneWe do this all day long. Learn more about getting your iPhone repaired @ The Austin Cell Phone. Below is[…]Read More Power Hungry Apps You Need To Know AboutAlmost everyone is very dependent on smartphones nowadays. These marvelous devices have infiltrated every aspect of our lives from messaging[…]Read More Everything You Need To Know About Turning Off iCloudWith the advances of technological, we have found a way to store media, information, and other content "up in the[…]Read More Safeguard Your iPhone: Easy To Follow Security Settings For Your iPhoneApple's iPhone is one of the most popular smartphones in the world. With a lot of cool features like a[…]Read More The Latest Apple Update iOS 11.3 Is Arguably One Of The Most Helpful For Your BatteryIf you ask iPhone users what aspect of their phone they want to change or improve one of the most[…]Read More
​In the market to buy a home? Contact Austin Realtor Fonz to help with your Austin ​home ​search. There is no obligation to discuss your goals and how he can help.